Welcome to Alaska Antler Works! Our custom antler creations are made from deer, elk, caribou, and moose shed antlers. We specialize in large Alaska-Yukon moose antler lighting and furniture, and enjoy working with elk and deer antlers from Montana. We find many of the antlers we use; each antler is unique and tells a story. Our handcrafted antler furniture is perfect for your backcountry lodge or rustic home.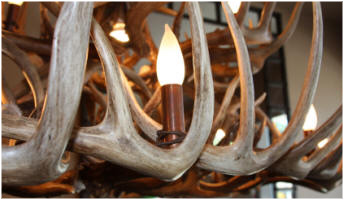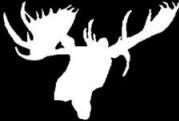 Aaron and Jill Bork have a passion for antlers and it shows in the fine craftsmanship of their antler furniture.
We enjoy creating the perfect centerpiece for your home. If you have an idea of an antler accent and don't see it on our site, let us know and we'll gladly do the groundwork to make your vision a reality. Please take a moment to browse in our online den; notice how the antler tables and antler lighting create a feeling of rustic luxury; if you have some time feel free to play a game on a scrimshaw antler cribbage board, or just enjoy some of our unique antler art. If you are looking for trophy moose antler taxidermy sets we have started to sell a few antlers.
If you've browsed through our antler store and have any questions about who we are you may find it enjoyable to click through our archive of Alaska adventures.